Hey there, fellow musicians! At Panyard, we're all about combining our love for the steel pan art form, music education, and top-notch customer service to become the go-to pan company for musicians worldwide. We're always pushing the envelope in pan innovation and tech, so you can expect better pan building, tuning, and some seriously cool instruments and accessories.
For more than three decades, we've been on a mission to bring steel pan into the mainstream music scene, sharing its sweet sounds with everyone. And guess what? We've also got a bunch of other instruments that play well with steel pans—ukuleles, djembes, hand percussion, and T'ing. Yup, we've got you covered!
Panyard was founded back in 1990, and we're still family-owned and operated right here in the USA. Owners Ron and Randy Kerns, along with our super talented and dedicated crew, are stoked about what we do, and we hope you will be too. Let's jam together!
Our mission is simple: make musical instruments accessible to everyone, everywhere. No matter your age, background, or skill level, we believe in the power of music-making. And we're not stopping there—we're committed to constantly innovating and promoting the steel pan art form, developing new instruments, and offering affordable, easy-to-play complementary instruments.
So, what are you waiting for? Grab your instrument and jam with us! Let's make some amazing music together!
Jam with us!
We Play Nice Together!
Ukuleles
Check out our top of the line Octopus Ukuleles. We're the only U.S. distributors of these fantastic instruments.
Hand Percussion
Check out our wide variety of hand percussion instruments, brought to you by SLAP percussion.
T'ings
Another Panyard innovation, this rhythm instrument is great for all types of bands.
Steel Pan
Last, but certainly not least, we offer every type of steel pan, from entry-level to professional quality.
What the experts say
Don't just take our word for it. Here are some reviews from professional ukulele teachers and performers: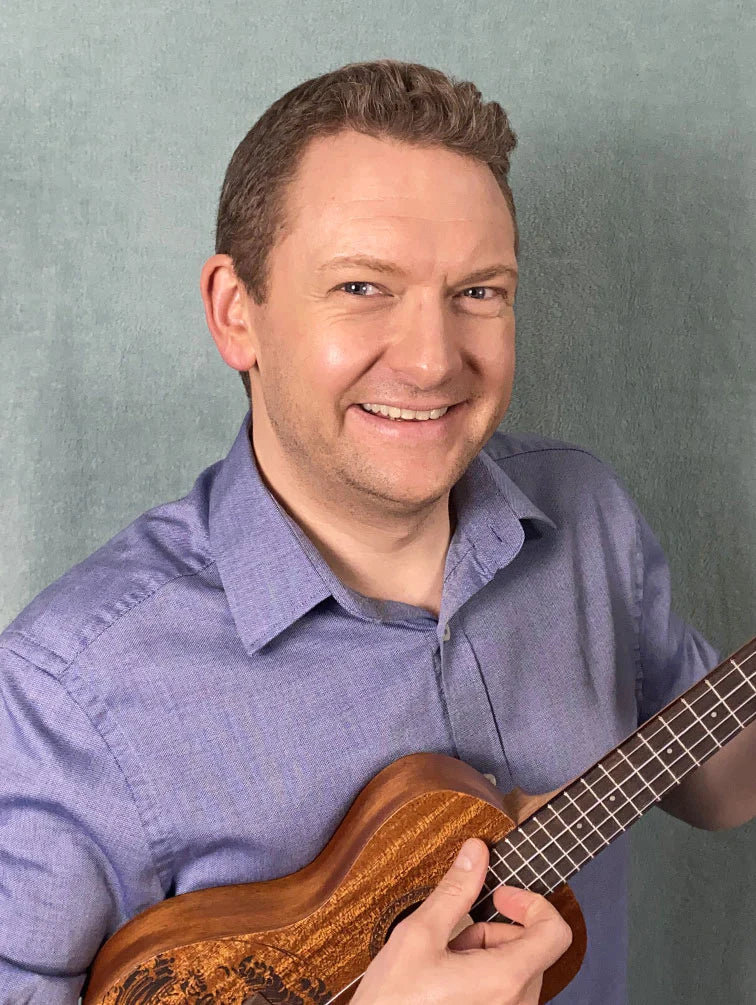 Andy Eastwood
"Octopus ukuleles really go beyond what we've come to expect from a uke in this price range. The build quality and attention to detail are fantastic. If you're on a budget or you want an educational uke for kids then you can't really go wrong with an Octopus."
Mary Beth Kell, Kindergarten Teacher
" Fun and easy are the two best words to describe Jumbie Jams! My kindergarteners loved playing them and their focus was incredible!"
Online Customer
"It is worth noting that the pan is not merely 'cast' and put in a box. It's obvious that the pan was professionally tuned…you can see small hammer strike dents and indentations on it, which is really neat. The note areas appear to be drawn on with marker instead of pre-stamped…which is also a GOOD thing…they wanted there to be some leeway so that the final product would have the correct notes and sound good, instead of assuming that the 'D' note, for example, would end up centered at a specific spot."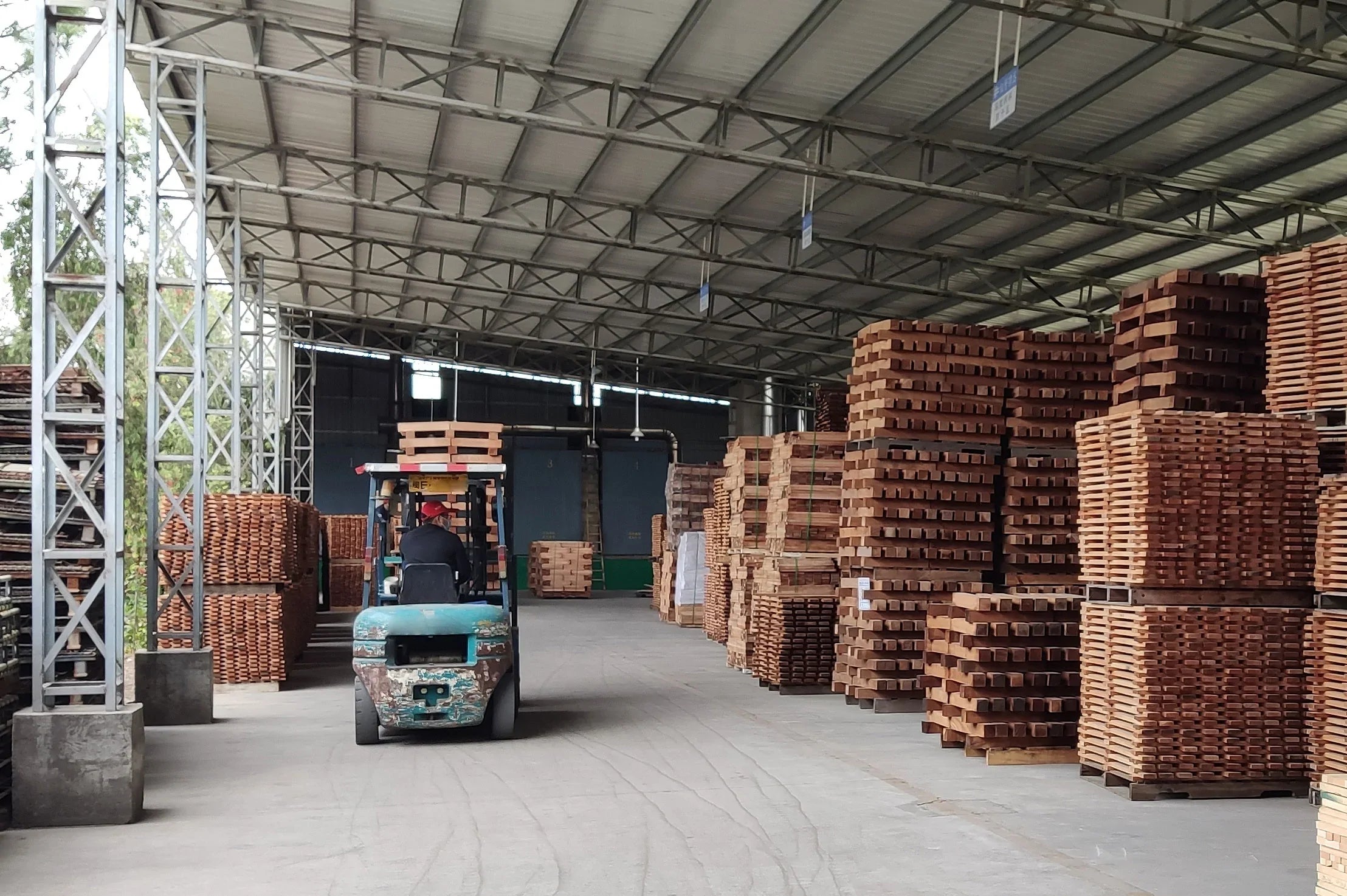 To make a fine ukulele you need a good design, a modern production line, top-grade raw materials and components. It is also crucial to have unbeatable quality control. The rigorous QC testing procedures at Octopus Ukulele are second to none - it is their aim that every ukulele leaving the factory is of excellent quality. Our team at Panyard is proud to partner with Octopus to provide these instruments to the US.
A significant aspect of Octopus ukulele production is how much of the process is completed by machine. The factory has invested heavily in researching and developing improved technologies, putting Octopus at the forefront of ukulele design and manufacture.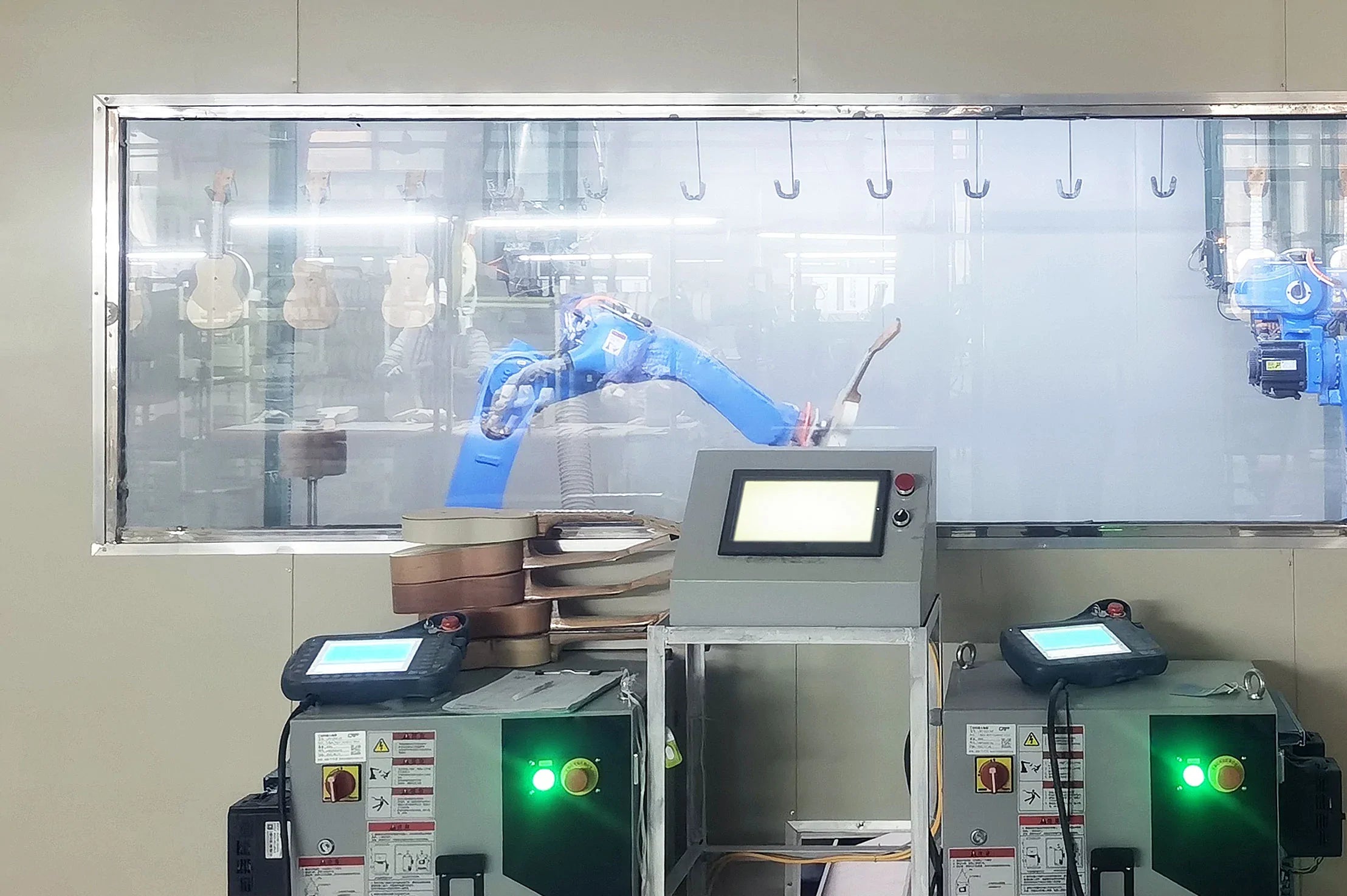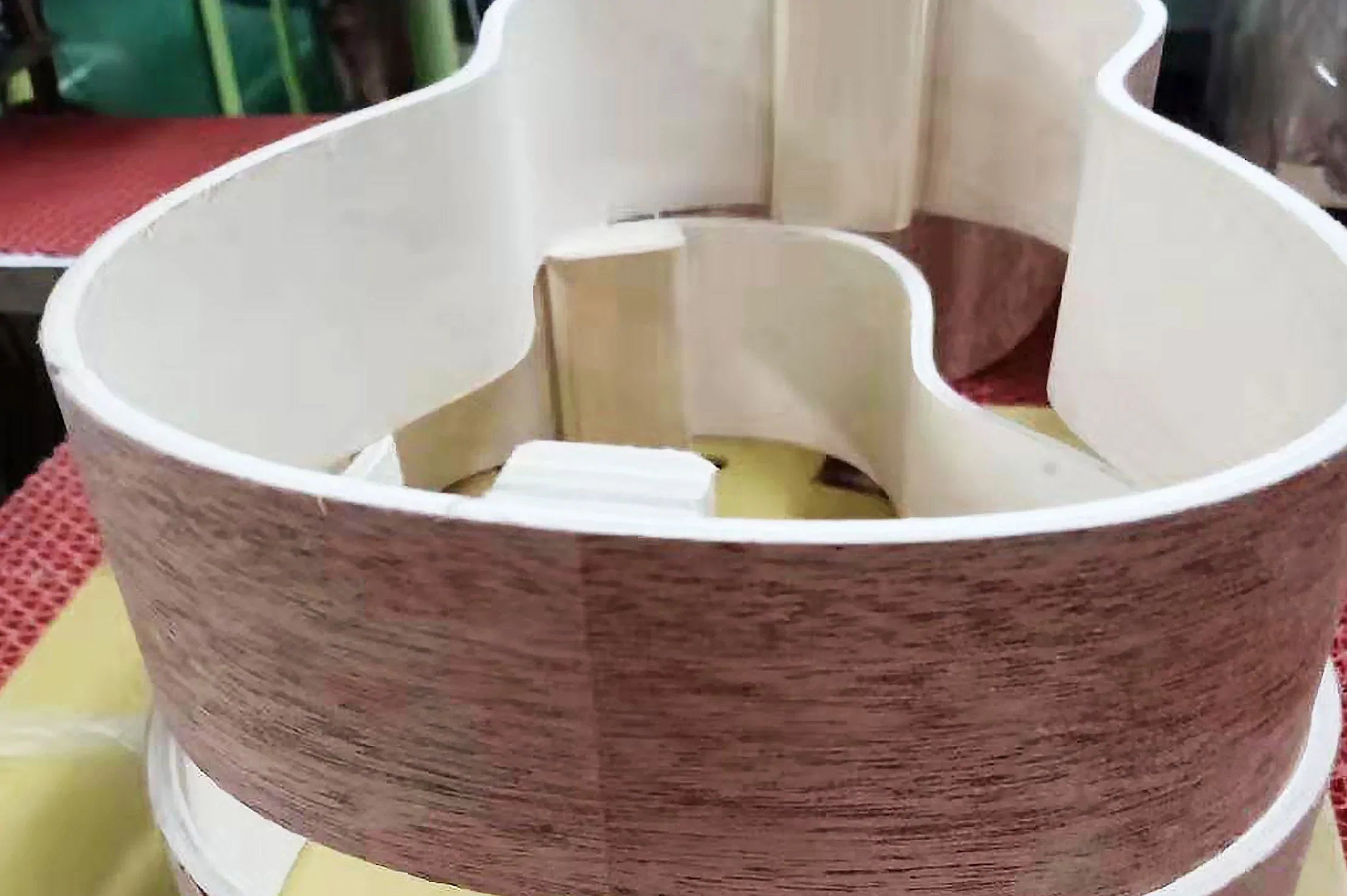 Cutting and shaping the wood is entirely computerised. A particularly good example is how we manufacture the side board of our ukuleles.
Our hi-tech process allows us to create a strong and robust 2+1 layer ply side board. This added strength means that, unlike on some other ukes, there is not the need to brace the front and back of the instrument. This results in a big improvement in potential sound quality, as well as an aesthetically pleasing instrument.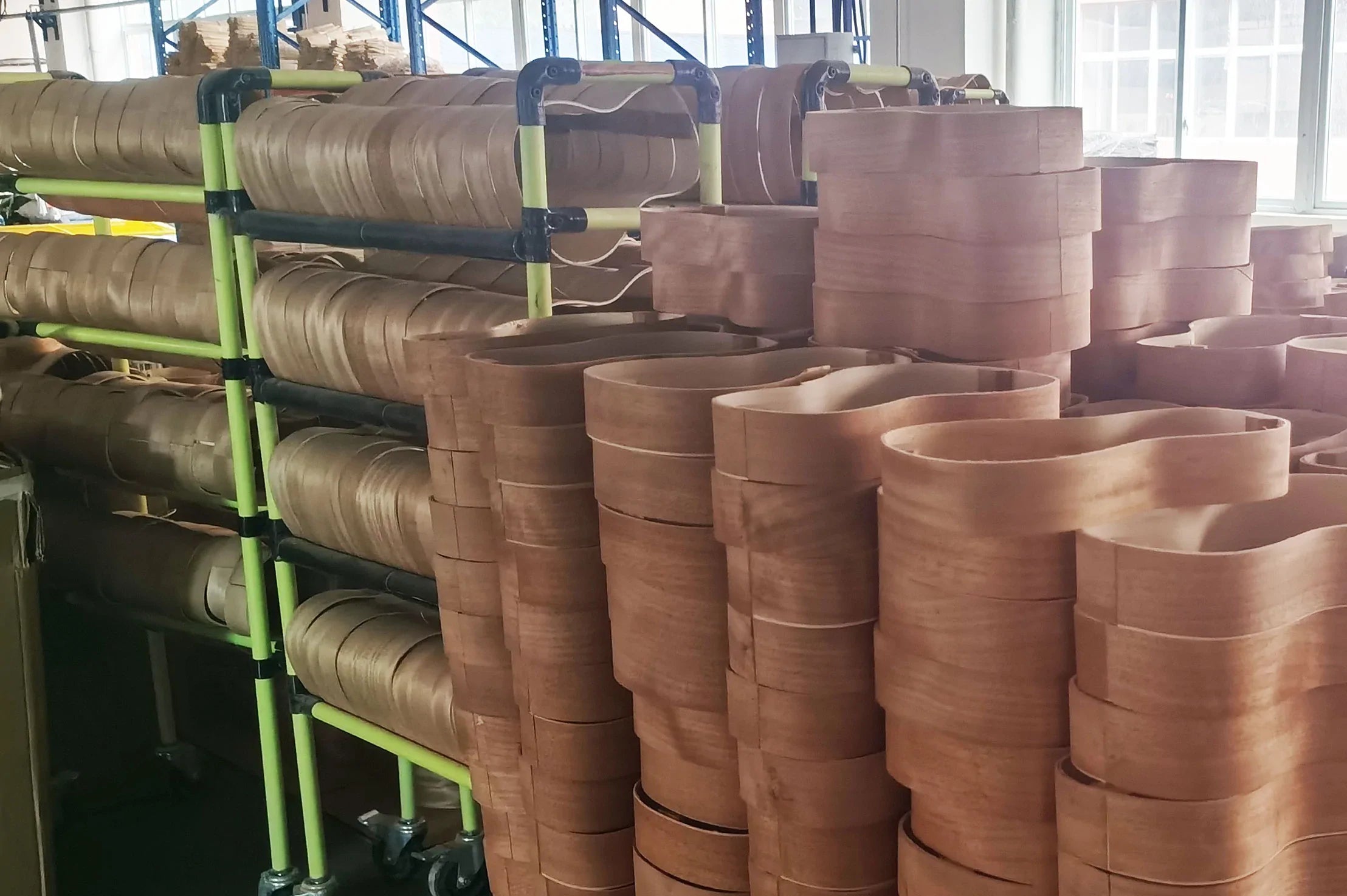 Sanding and painting are also computerised processes, allowing for total consistency throughout the build.
Once painted, we dry the ukuleles in a dust-free environment – this guarantees a perfect finish on every instrument.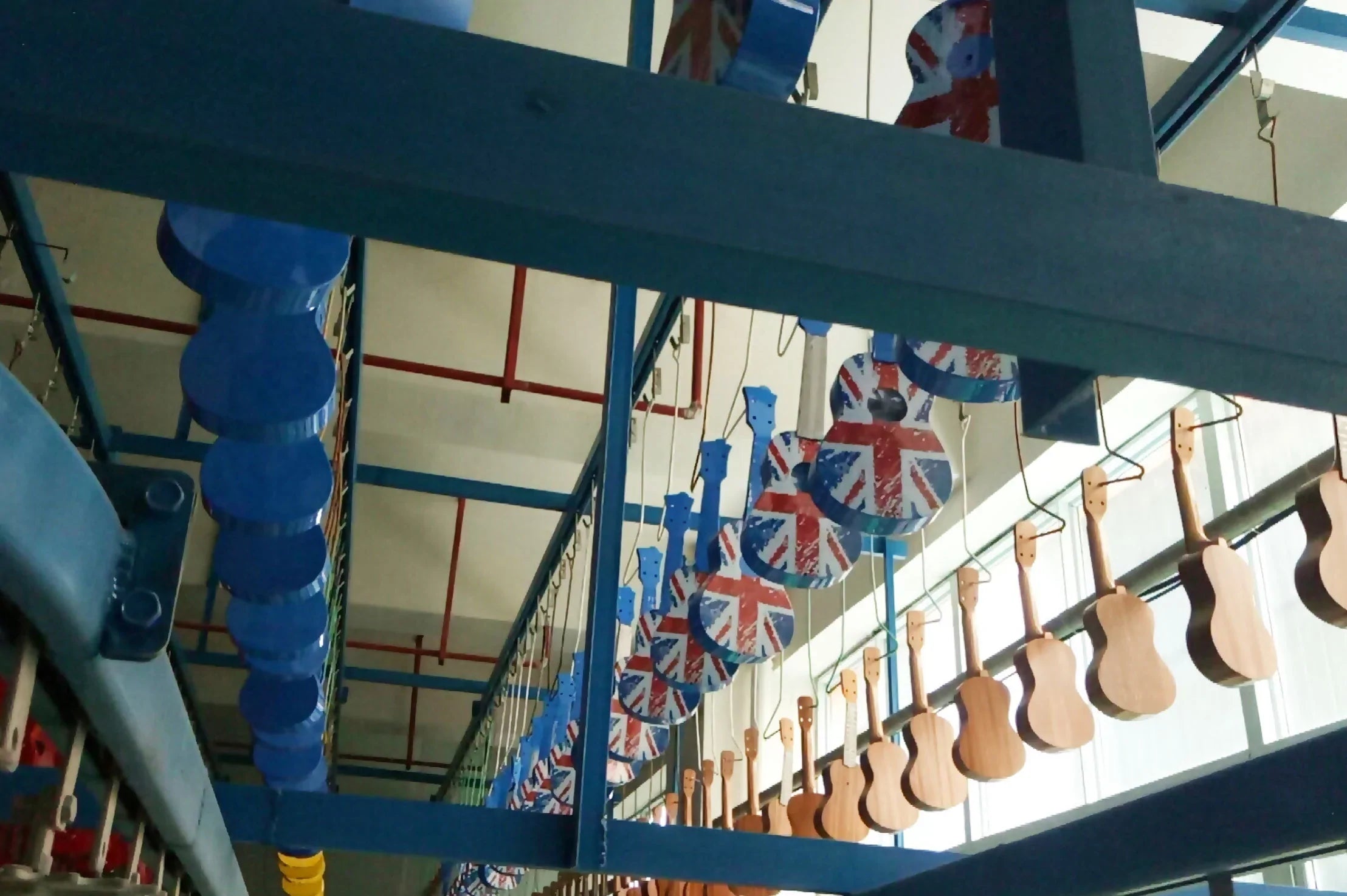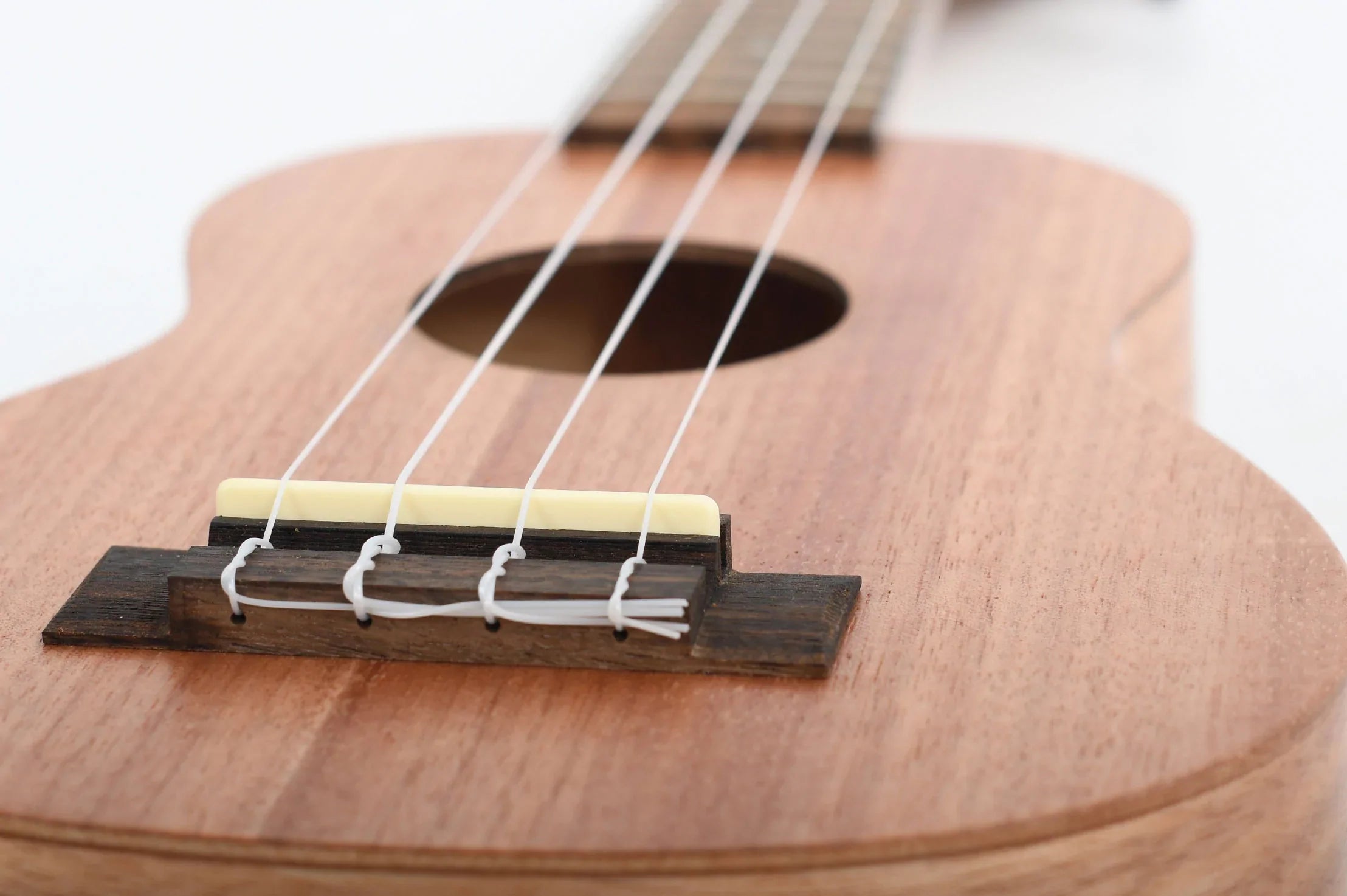 When the paint is dry, we use a laser cutter to remove the paint where the bridge is to be attached. The bridge is then glued 'wood to wood', creating a very strong bond. Using a laser cutter affords incredible precision to the task, so the area around the bridge is very neat and tidy.

The bridge is attached to the ukulele by an automatic gluing machine. The glue volume is always exactly the same on every instrument, and the positioning of the glue is also fixed.
Before ukuleles are packed in their boxes they are pre-tuned and play tested.

This automated process ensures that strings are pre-stretched and wound onto the machine heads correctly. A new Octopus ukulele requires very little tuning when taken out of the box for the first time, setting it apart from the majority of instruments out there!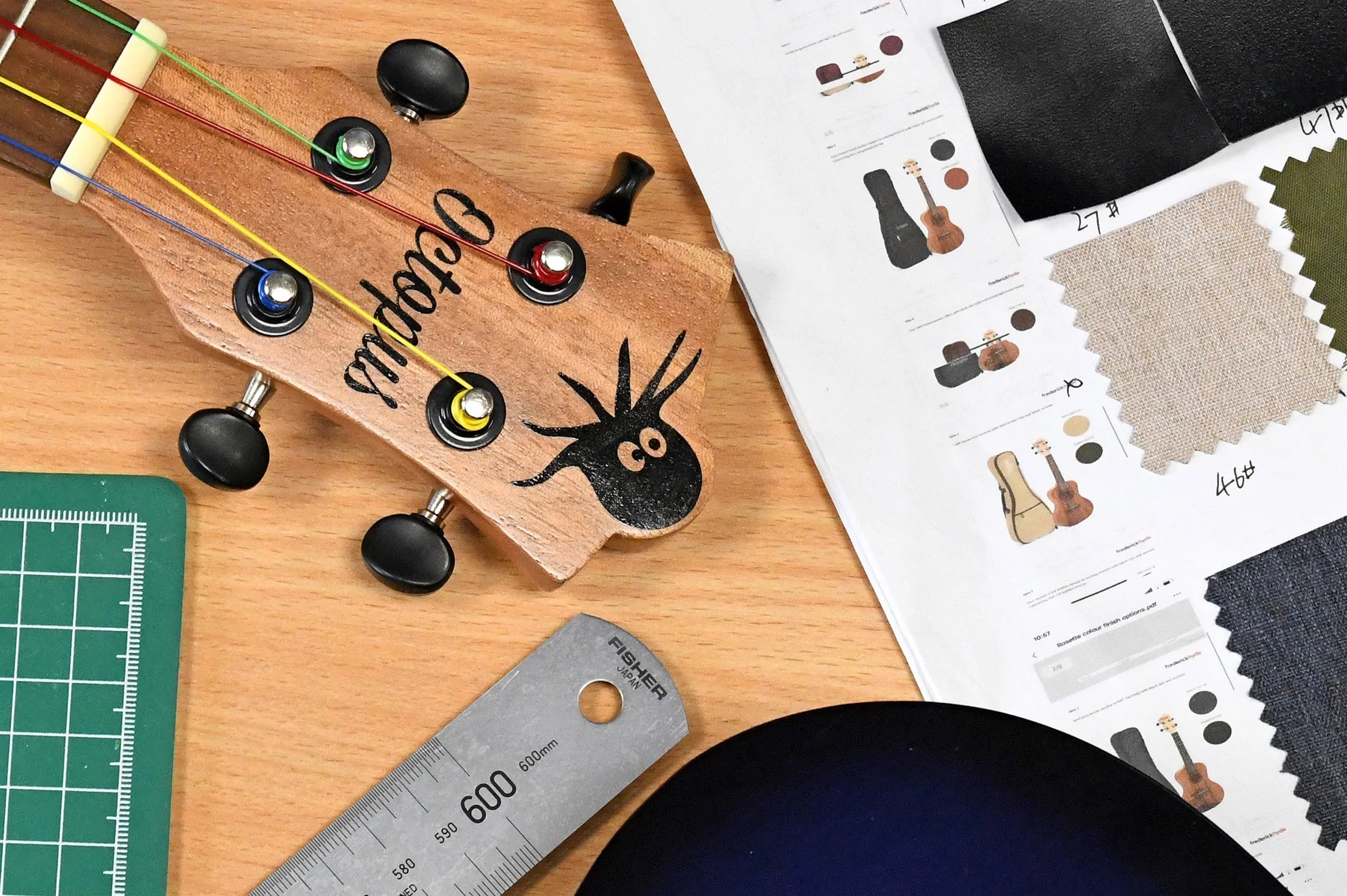 Every conceivable part of the job of manufacturing an Octopus ukulele has been carefully considered, so that the instrument that gets taken out of the box is as good as it can possibly be.